Contents - Index - Previous - Next
---



Primer List



Clicking the "Select" Primer button in the Load Record Cartridge Panel will access this module. The list of primers will be filtered to show only the primers that are tagged as On-Hand or Stock Items. This filter may be removed either by clicking the CLEAR FILTER radio button in the Filter for primer type panel or by clicking the None radio button in the Filter panel.

If the correct primer record is listed, select the record and then click the button labeled "Send the Selection to the Load Record". The Manufacturers Name, Index Number and Primer Type will then be copied into the appropriate fields in the Cartridge panel and the program focus is then returned to the Load Record page.




More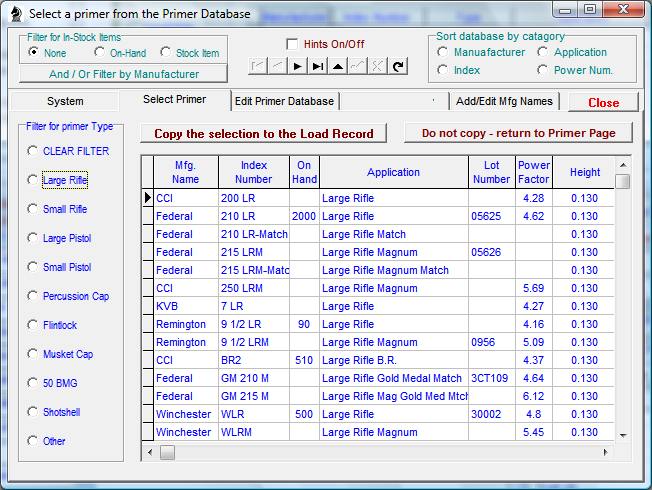 The Primer database may also be filtered by Manufacturers Name through the And / Or - Filter by Manufacturer button which will open the Filter List.




The Primer Database may be alphabetically sorted from the Sort panel by the four field topic radio buttons labeled "Manufacturer", "Index", "Application" and "Gussy Pwr".

The Gussy Power Factor numbers are the results of testing procedures performed by a private individual and indicate the average amount of deflection applied to a pivoting metal plate as a result of the force of primer detonation.

If a primer record is not found or needs to be edited, open the "Edit Primer Database" page.

To edit an existing record, use the Database Navigator bar to select the record and make the necessary changes in the field edit windows. After changes have been made, click the Post button in the Database Navigator.

Clicking the "Enter a New Record" button will open a new, blank record. The Manufacturers Name and Size and Type field entries must be selected from the edit window drop down lists. If the Name or Type lists do not contain the required names, these lists may be edited from the Add/Edit Mfg. Names page.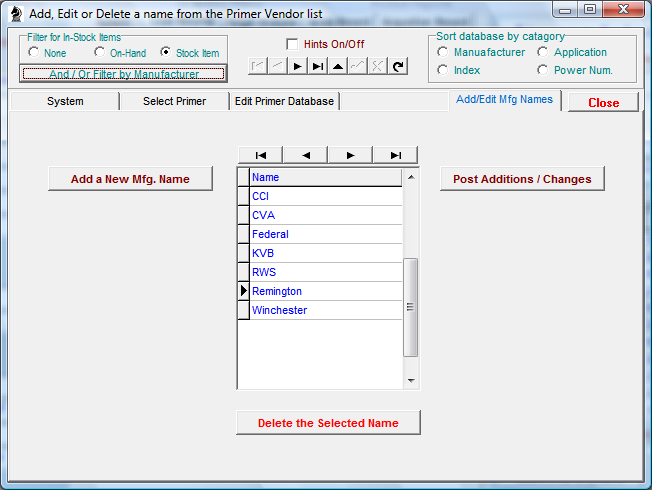 If a primer is intended for use in current reloading operations, it may be flagged as an inventory item by checking the "Check if Inventory Item" checkbox.

After all information has been entered or edited, click the "Post" button in the Database Navigator.

The information in the new or edited record is now ready to be copied to the Load Record from the "Select Primer" page.

A record may be deleted from the database with the "Delete Selected Record" button.

Caution: If primer information has previously been entered into the Load Records, changing or deleting the Manufacturer Name or the Primer Type may cause some of the information in the Load Data to become inaccessible.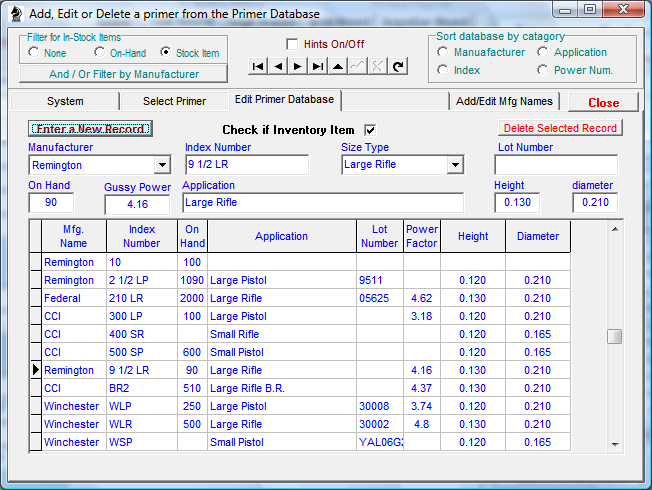 All Component Inventory pages use essentially the same format and adjustment algorithms. Refer to the Inventory Topic and the Bullet Inventory for information about the procedures used.

Remember to enter the LAST COST PER 100 PRIMERS before making inventory adjustments.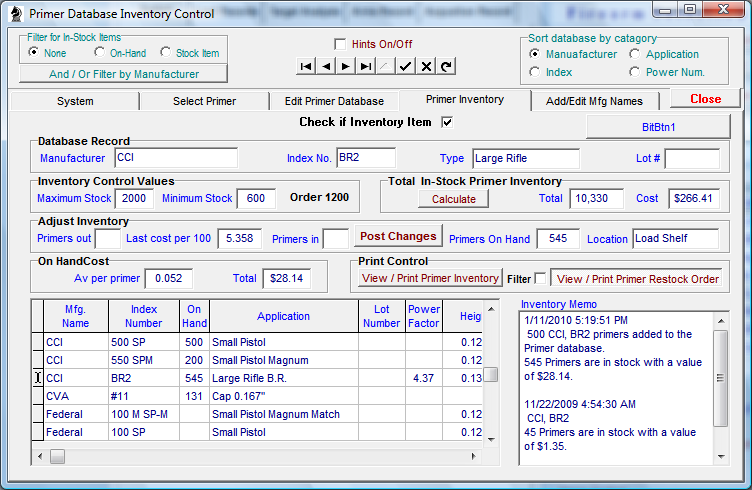 Copyright © 2002- 2016. TMT Enterprises. All rights reserved. Modified June, 2016