Contents - Index - Previous - Next
---



Load Records





All data pertaining to the components and assembly of the loads may be viewed from this section.

To enter a new load, click the "New Blank Load" button.

When recording the data for a new load and only one or two components have been changed, a duplicate entry of all the data may be copied into a new record by clicking the "New Duplicate Load" button. Then simply edit any changes that were made in the load into the new record. This eliminates much tedious data entry.





Click the Page Tabs, Buttons, Component and Panels in the image below to open context sensitive topics.




More below





In order to maintain accurate and consistent records, as much data as possible should be transferred from lists and pre-entered data. Toward this goal, the major load components, Cartridge Case, Primer, Bullet and Powder may be selected from Component Databases.

To enter or edit data for the individual components, double-click the component panel or click the button with the "Components" label to open the page where the information may be either typed or selected from the individual Component page.

The Load Comments window may be opened by clicking the "Comments" button. This will open a larger Comments Editing Field where extensive, additional information may be entered for the load and each target that uses the selected load.

After a load has been test fired and chronograph data and shot coordinates have been entered, the data is evaluated by algorithms that determine group size, group uniformity, velocity consistence, etc. In order to avoid repeated attempts to develop a poorly performing load and to identify good performance loads, this load may then be assigned a rating. The load records may then be sorted according to the assigned rating using the sort algorithms in the Select Load Records Module

A rating from 1 through 9 may be selected from the drop-down list in the Load Evaluation Control box.
The selected rating will be assigned to the load and recorded. The text in these ratings may be edited but they should all retain a number from 1 through 9 as the first item in the text.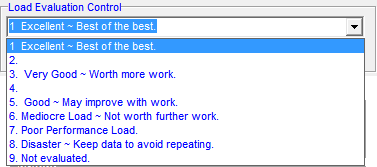 Copyright © 2002- 2016. TMT Enterprises. All rights reserved. Modified June, 2016