Contents - Index - Previous - Next
---



Component Inventory Records



A comprehensive inventory of the primary components used in the loads recorded and analyzed by the Precision Load Record software. Inventory records of cartridge cases, jacketed and cast bullets, gas checks, primers and powders may be maintained, either by manual entries or automatically from load records from completed target records.

Upon completing a loading session, open or create a load record by loading each component from the individual component databases.
Then, from any load component panel, click on the "Component Inventory" button an the Inventory Adjustment Module will be shown.

Click each of the "Edit Component Inventory" boxes and make sure that each component database inventory section has an adequate number of components to supply the number of rounds loaded.

Enter the number of rounds loaded in the field at the top of the module.

Click each appropriate "Adjust Component Inventory" and the software will check to see if the inventory content is adequate then adjust the number and value of the components used in the load.

When clicking the final "Adjust Ammunition Inventory" button, If a load has not been entered into the Loaded Ammunition Database, the software will create a record from the components, using the recorded units and prices to place a value on each loaded round.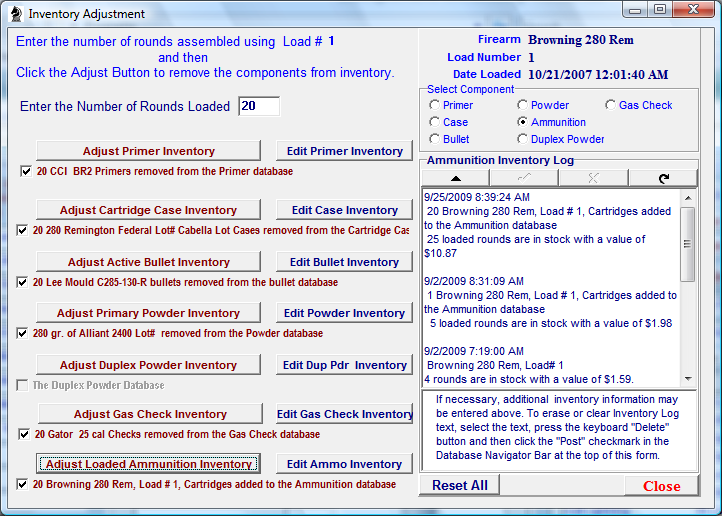 Copyright © 2002- 2016. TMT Enterprises. All rights reserved. Modified June, 2016